2009.
Historical note: a 'leaked lineup' roamed unfettered around the internet a couple of weeks before the official lineup was revealed. Not only was this taken at first by most Meredith fans to be true, 'proper' music and news media reported it as being the official lineup. It was of course inaccurate on several counts. A Meredith lineup is not official until Aunty Meredith says it is.
The festival itself was officially fantastical; one of those all-too-rare times where 12 months of inspiration and perspiration culminated in a result that gloriously exceeded expectations.
It was wet in the week before the festival, and it rained a little on the Friday….but that was the only rain, thankyou Sweet Baby Jesus.
For the first time, all tickets to the festival got you into all three full days – previously Friday entry tickets were limited to 75% of the capacity. So it was nice to have everyone start on page one together for a change.
Another major change was the opening of a massive new campground named Bluegums, which was a plantation of rows and rows of about two thousand adolescent eucalypts which were destined for the evil clutches of the pulp mill until Uncle Doug's timely intervention. A main access road and three ring roads were put in. The ring roads were named "Loop de Loop", "Loop De Lie" and " All On A Saturday's Night" by Peelie.
A very consistently astonishing lineup over three full days included Akron/Family, Sia, Crocodiles, a reformed Tumbleweed, Yacht, Tim Sweeney, Thee Oh Sees, Kitty Daisy and Lewis…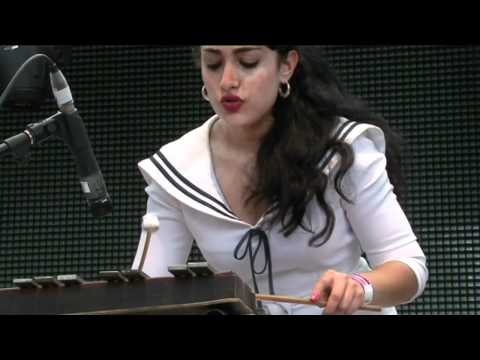 …Pharaohe Monche….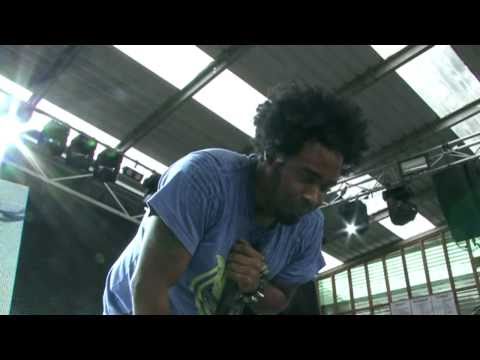 Wagons, Heavy Trash, The Middle East, Kid Sam, and The Dacios among others. Royal Crown Revue also played – and some idiot threw their empty foam esky up onstage which accidentally caught the singer Eddy. He didn't miss a beat. "Hey father, do me a favour" he said at the end of the song."Next time you throw a cooler at me, put a crate in it". Meaning, I assume, fill the thing with cold beer, peanut.
As well as that stellar roll call, an idea a decade+ in the making finally came to fruition – Paul Kelly played the sunset spot.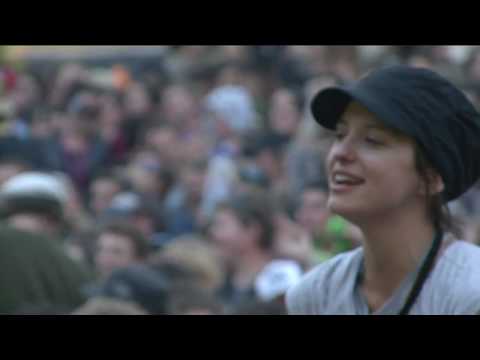 The Amphi became a giant church of PK and glorious singalongs happened. Paul was 'awarded' The Boot, which by then had become the audience's way of showing their appreciation at Golden Plains and here had leached over to Meredith. Essentially, one show/boot/thong/gumboot etc was held aloft, creating a bizarre sea of shoes in the air.
Also playing Saturday night, the godfathers of their era Animal Collective played a typically willful set that pleased the purists more than the tourists.
And then on came Jarvis Cocker! Bloody brilliant. What a showman, as good an hour and a half's entertainment you'd ever see anywhere, the man is a marvel.
2009 was a terrific Meredith, perhaps the best of The Modern Era.
The MMF2009 Website can be found here.
Below is some of What Was Said about the festival (and some photo galleries):
The Age – Joys of Meredith madness – by Patrick Donovan
The Age – Photo Gallery – by Jason South
The Vine – Meredith Music Festival 2009 – reviews, notes and observations – by Marcus Teague
The Vine – Live Review – Meredith Music Festival 2009 – by Andrew Crook
The Vine – Photo Gallery – by Tim O'Connor
Faster Louder – Meredith Music Festival @ The Supernatural Amphitheatre – by grattan
Faster Louder – Photo Gallery – by invadercee
Undercover – Meredith 2009, The Undercover Wrap – by Haylee Cashmere
Undercover – Photo Gallery – by Damien Loverso
Mess + Noise – Meredith '09: "I Think I'm Going To Die" – by A.H. Cayley
Mess + Noise – Photo Gallery – by Kristy Milliken
Triple J – Photo Gallery – by Cara Bowerman
ABC Victoria – Meredith Music Festival 2009: the paddock that rocked – by Jarrod Watt
Artist LineUp:
Akron/Family
Animal Collective
Bag Raiders
City of Ballarat Municipal Brass Band
Jarvis Cocker
Combo La Revelacion
Eddy Current Suppression Ring
Nathan Fake
Sia
Heavy Trash
Paul Kelly
Kes Band
Kid Sam
Kitty, Daisy and Lewis
M.A.F.I.A.
Oh Mercy
Pharoahe Monch
Regular John
Royal Crown Revue
Henrik Schwarz
Tim Sweeney
Thee Oh Sees
The Dacios
The Fauves
The Middle East
Tumbleweed
Wagons
Why?
Witch Hats
Patrick Wolf
Yacht
Yacht Club DJs
Special Guest MC: Angus Sampson
Gift Mistresses: The Town Bikes