2008
Victoria's wettest day of the year. Wettest start to December on record. Wettest weekend in the district for 28 years. Rain for 36 hours straight.
You've got to be kidding.
The cities of Melbourne, Geelong and Ballarat sold out of gumboots. We had 500 pairs for sale at the festival and they went in an hour. It was unfairly cold and wet. 2004 had been a kinda tropical storm – it stayed quite balmy and chucked down intense rain for an hour – but this was just endless, endless consistent rain. Drizzle then light rain then just rain then heavy showers then rain then light rain then pelting rain – it literally did not stop for 36 hours straight. The 'irony' was that we were deep in drought. Meredithians again rallied – and somehow made their own fun as well as used the funcilities provided. Clothing and outfits evolved over the weekend – by Saturday lunchtime it was clear that the ultimate garment was a wetsuit, and several people got around in just that. "Had the steamer in the car.." etc. Others taped plastic bags around themselves and rigged up all manner of tarps and temporary shelters at their campsite and in the Amphi's trees. Many spent considerable time in their cars, which often became the best place to sleep. However, many thousands of Meredithians came very well prepared and coped with the wet weather absolutely fine. One prominent band manager who couldn't be there remarked after the festival that it was as though everyone who went had agreed an accord to say it was the best Meredith ever…if you weren't there you couldn't conceive how anyone could have fun in that weather…but they did. They really, truly did.
Musically, I would say the weekend was won by The Bronx on Saturday arvo who were defiant and fired up the crowd regardless.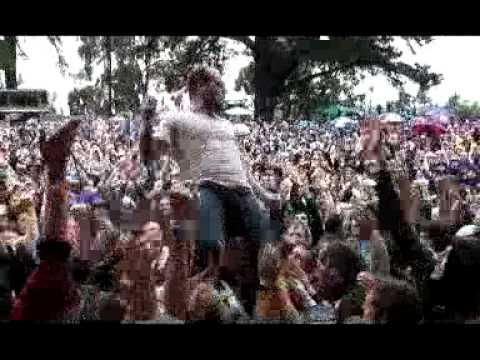 And Yacht Club DJs, who after a soggy Saturday night got the place going ballistic. Other supreme notables included Man Man, Regurgitator, Holy Fuck, Tame Impala, Saul Williams, Architecture in Helsinki, the return of Muscles, and Adam Green.
MGMT finished off their world tour with a set at Meredith. Their final moments of that World Tour spent sharing a couple of beers in their Tarago next to the Nolan farmhouse letterbox on the Mt Mercer Road and looking at The Supernatural Amphitheatre from afar.
Watch Dan Sultan here: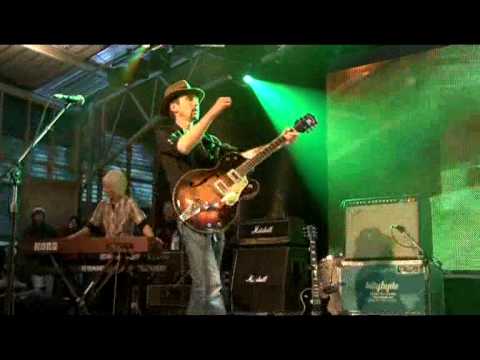 New hot and cold showers were put in. Gatekeeper Chrisso departed after welcoming over 100,000 people to Meredith in his tenure.
There was Top Camp tree planting plan. Elaborate. Maybe when the drought breaks that'll happen.
Cold and wet year, but lots of fun.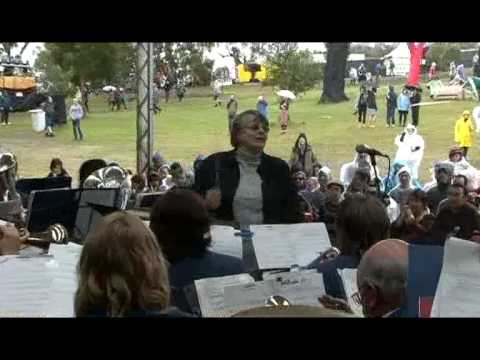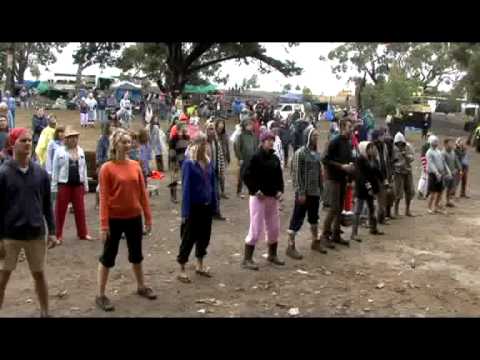 The MMF2008 Website can be found here.
Below is some of What Was Said about the festival:
The Age – Too big for its gumboots? Meredith festival gets a muddy mosh-pit – by Melissa Fyfe
Faster Louder – Meredith Music Festival – by sarahanne
Faster Louder – Photo Gallery – by misslibertine, grattan, invadercee
The Vine – Live Review – Meredith Festival 2008 – by Andrew Crook
The Vine – Photo Gallery – by Marcus Teague
Mess + Noise – Meredith 2008: Fun In The Sun – by Darren Levin
Mess + Noise – Meredith Music Festival – by Darren Levin & René Schaefer
Ballarat Courier – Meredith Music Festival tickets gone in an hour
Ballarat Courier – Mud, rain and cold couldn't stop a good time at Meredith Music Festival
The Dwarf – Meredith Music Festival – by Dom Mercuri
Beat – Review: Meredith Music Festival 08 – by Dan Watt
Inpress – Review: Meredith Music Festival – by Adam Curley, Tom Hawking and Roger Nelson
Music Feeds – Merry Madness with Aunty Meredith
Artist LineUp:
Holy Fuck
Little Red
MGMT
Saul Williams
Man Man
The Bronx
Muscles
Final Fantasy
Tame Impala
Beaches
The Mountain Goats
Pilooski
Ten East
The Scientists of Modern Music
The Ruby Suns
Black Diamond Heavies
Combo La Revelacion
Dan Sultan
Even
Kram
Mountains In The Sky
Yacht Club DJs
T Rek
Grand Salvo
Violent Soho
Adam Green
The Datsuns
Architecture In Helsinki
Regurgitator
City Of Ballarat Municipal Brass Band
Streetparty
DJ Shags
Special Guest MC: Angus Sampson
Gift Mistresses: The Town Bikes