Meredith 2001 was big. In the month preceding the festival the heaviest rainfalls in decades soaked into the site and come Saturday morning it was bedlam. Again, a water animal was the mascot – a duck. Still we didn't twig. By mid-morning, two of the access roads had become car-swallowers, despite organisers having called in the excavators the week before to dig the sludge out and replace it with rock, in places to depths of six feet.
Eventually everybody got in and there were almost too many highlights to mention, but we'll try: Warped kicked off proceedings by arriving in front of the stage in a Valiant Charger and getting out, clambering up and rocking very very hard, particularly considering they had driven directly from Sydney to Meredith overnight. Loopy genius Bonnie Prince Billy eased out a sublime mid-afternoon set. John Butler Trio filled the amphitheatre in the late afternoon with their primal jam. Rocket Science made their Meredith hat trick and were one of the winners over the weekend; similarly Augie March exorcised some past Meredith demons with a sweet sweet hour just on dusk. Combo La Revelacion started their famous Latin party, again. TISM were TISM. Hilarious theatrics, hit tunes, hi-energy performance. Nothing comes close to that band, in a way. You Am I started with a cover of Teenage Fanclub and rocked and rolled their way through one of the most Meredith memorable gigs of the whole 11 years. Dexter and Robbie from the Avalanches played a DJ set which turned the place into Party Central and really were pretty downright amazing. We think that will be the sort of gig where far more people will claim to have been there than there actually was; it was legendary before it had even finished. Wetmusik's gents thumped out the last MEREDOOF to the delight of several thousand hard-core partiers. Sunday was cruisey; Tai Chi was a huge success just after breakfast and was planned to become a Meredith constant.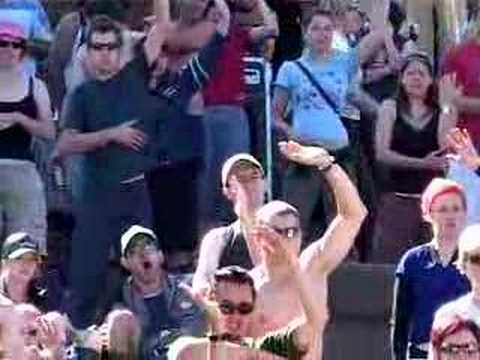 Silver Ray were wonderful, and Bob Log III, well, that was one of the best things ever. Anywhere. We loved him. The Dave Graney Show was ideal for a lazy Sunday afternoon, someone won The Gift and The Drugs kicked in just when everyone thought they'd had enough.
Artist LineUp:
Augie March
You Am I
Bob Log III
Dexter (with Robbie)
The Monarchs
TISM
John Butler Trio
Rocket Science
1200 Techniques
Superheist
Warped
Combo La Revelacion
Bonnie 'Prince' Billy
Silver Ray
Prop
The Dave Graney Show
The Drugs
Wetmusik
The Fergs
and more
Special Guest MC: Greg Fleet