Note – we lost all the photos from 1996. Something about moving house and a box or Australia Post or something. If you've got any, email Aunty.
1996, and for a while there it looked as though there would be no Festival this year and maybe forever. Tragically, one of the three founding organisers – Chris Nolan – was struck by a catastrophic illness, and a decision was made to abandon the Festival. Offers of help came pouring in; the idea of an 'Indoor Meredith' was floated and then sunk, the local townspeople's generosity was unbelievable and after much soul-searching and with the full blessing of Mary and Jack Nolan, it was decided to go ahead with the Sixth Annual Meredith Music Festival as a private benefit and partial fund-raiser for its sick co-founder.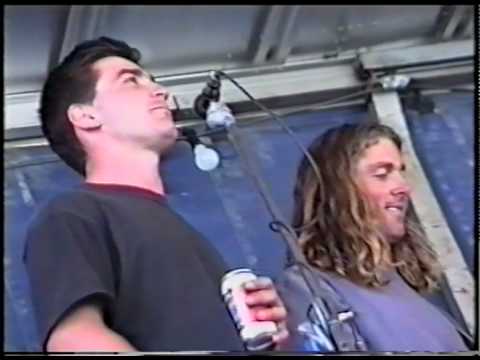 1996′s Festival was a beauty. The quality and diversity of bands stepped up a notch, as did the prizes in the Gift (an unconventional foot race where prizes double for nude or underpanted place getters). Tex, Don and Charlie provided a genuine highlight, with their minimalist spooky folky blues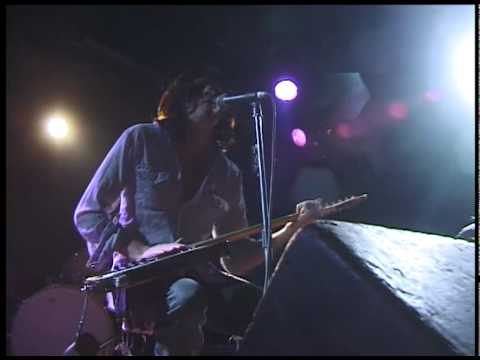 as did Snout, The Dumb Earth, The Mark Of Cain, Paradise Motel, Kim Salmon and the Surrealists, Chris Wilson and Shane O'Mara and the many other first-rate local acts. The weather was fine, the facilities were better and again the Festival sold out well in advance. '96 was one of Aunty's favourite line-ups, again, it just had a certain balance to it; the lynchpin of which was Tex, Don and Charlie at Sunset (with Jim White on drums), which started slowly but soon won the hearts and minds of the crowd, whose cheering at the end of their set lasted many minutes after the band had left the stage.
Speaking of leaving the stage…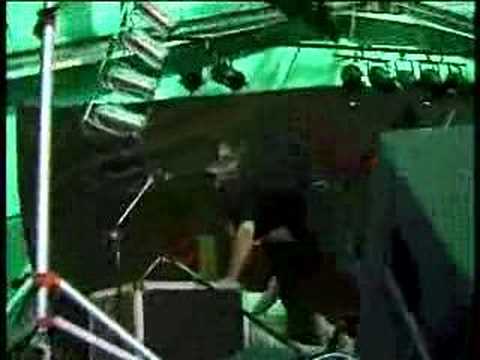 Mulwaverly had taken up residence by this time, setting up camp in the same place every year, and bringing more and more elaborate structures to their camp. Their defining icon was a giant yellow 'M' taken from a McDonald's store. This was also the year someone brought a two-storey high inflatable dog, which they plugged in to some power at the back of the amphitheatre. It was self-inflating, so they must have enjoyed watching it slowly rise to tower over the crowd from their anonymous position in the crowd.
Another tradition was borne this year, one that came to be known as The Arch Of Love. The Arch was about seven feet tall, made of cane, and wide enough for one person to walk through. It was probably made to be a garden arch, or arbour. It appeared on the foot-track up the hill, and those sitting nearby enjoyed people either choosing to walk through it, or walk around it. It turned up the next year, but with new decorations, from memory a mass of plastic vines and pink flowers were threaded through the cane. It has been there every year since, in the same place, in different costume.  One year it was present in a tailored leopard skin suit. This had nothing to do with the organisers; this was brought along by a patron, and it has become an institution at Meredith. A tradition sprung up that if two people walked under it they had to kiss. The Raccoon spent one afternoon doing some social studies; most women-folk would go out of their way to walk through it, most men would deviate from their path if they were on target to walk through it. Says a lot doesn't it. Thankyou very much to whoever The Archkeeper is, please contact us via Ask Aunty Meredith: it's about time we gave you Life Membership so you don't have to worry about buying a ticket every year.
About this time a group broke away from the Pelaton and settled in the area, making earthenware pots and selling them by the roadside. Their business failed and they fucked off. Fair enough too. Who needs more pots.
Here is some of What Was Said about the festival:
Beat – Meredith Music Festival '96 – by Jarrod Watt
Beat – Meredith Festival Guide
Forte – Meredith The Festival – by Chris Scadden
Inpress – Review: A Very Big Paddock in Meredith – by Kate McMillan
Inpress – On Yer Marks – by L.B. Bermingham
The Age – Review: The Natural Place To Hear Homegrown – by Patrick Donovan
The Age EG – Turn Up, Tune Up, Drop In – by Andrew Masterson
Artist LineUp:
Gaslight Radio
The Paradise Motel
Magic Dirt
Ricaine
Crud
The Mark of Cain
Combo La Revelacion
High Pass Filter
Tex, Don and Charlie
Kim Salmon and the Surrealists
Snout
Drop City
Rebecca's Empire
Powder Monkeys
Bodyjar
Golden Lifestyle Band
Something For Kate
Chris Wilson and Shane O'Mara
Screamfeeder
The Dumb Earth
Hoss