The Twelfth Annual event had to be moved to a new site. UH OH.
The previous eleven Merediths had been held on a part of the Nolan farm that was officially the Cargerie Bushland Reserve, set aside for 'bird watching and picnics' in 1953. The Crown said no more festivals there, sorry.
So with barely six months to get their schtick together, organizers started getting their schtick together. Excellent, hard working nature lovers turned up from all over the country to help. In a display of the kind of Utopia this planet should be, it was all hands to the pump as the workers dug, cleared, planted, fenced, built, pathed, planned and enjoyed the new site. They lived in caravans, vans, tents, cars, and ate, worked, slept and partied on the site, through all kinds of weather and many an unforeseen setback. They did a great job.
The 2002 Meredith was an astounding success. Where to start? The Meredith Eye arrived for the first time and was full the whole time. MEREDOOF went to sleep with the fishes and hippers hopped in its place. Meredith was open on Friday night for the first ever time – about 3000 people took advantage of the early entry to set up a great campsite and enjoy some fine performances, including Snout's last ever one, plus Dallas Crane and Dead Moon. There were some amazing artists – Bob Mould, Sleater-Kinney, Jon Spencer Blues Explosion, Lisa Miller, a wonderful 90 minutes of live groove from Resin Dogs, and the Yeah Yeah Yeahs on their first Australian tour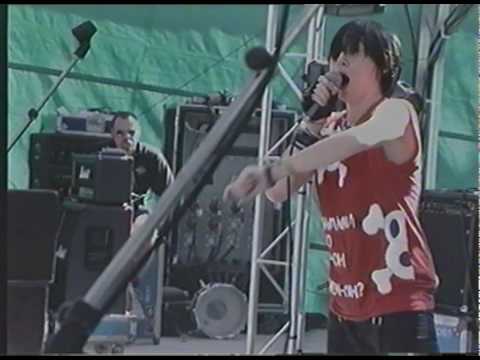 The Supernatural Amphitheatre was a bit dusty, which made a mockery of the soggy conditions the previous year (cruel Mother Nature, why do you taunt us so?) but it didn't matter after a while. Organisers were inundated with compliments for the new site, their favourite one being "it's just like the old one". The Archkeeper found a good spot for The Arch of Love on the new site. Mulwaverly were invited in first to pick themselves out a new home. Basically the layout was the same as the old site but in reverse, so it was a bit weird for those of us that were so used to the old one – it seemed like exactly the same place but everything was left handed.
Here's Sleater-Kinney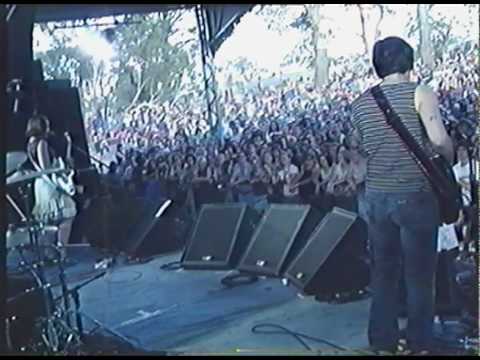 The MMF2002 Website can be found here.
Below is some of What Was Said about the festival:
Ballarat Courier – Annual Meredith festival to be bigger than ever – by Karen Davis
MMF2002 Advertisement
Artist LineUp:
Resin Dogs
Sleater-Kinney
Jebediah
Jon Spencer Blues Explosion
Paul Dempsey
1200 Techniques
James De La Cruz
Jet
Darren Hanlon
The D4
Lisa Miller
20 Miles
The Drones
Bob Mould
Combo La Revelacion
Snout
Dallas Crane
Dead Moon
Yeah Yeah Yeahs
The Fauves
Hoss
The Sailors
TZU
Chant Down Soundsystem
Adam Simmons Toy Band
The Persian Rugs
The GammaRays
Special Guest MC: Anthony Menchetti