OK! 2007.
Well, the weather was fine…not too hot, bit of drizzle Saturday morning. 2007 was a Meredith in full glory, without negative impact from the atmospheric conditions. We love those ones. Nobody remembers them! But we love them.
The first Meredith Sky Show happened above the Amphitheatre on the Saturday night. This consisted of many dramatic lighting effects but also several massive lasers, so powerful we had to get clearance from the Aviation Authority to ensure they didn't interfere with planes. Daft Punk didn't play Meredith though they were in Melbourne that weekend, which led to persistent and widespread rumours/belief that we'd managed to book them in. Despite Aunty stating quite clearly several times that that was never on the cards.
A container of kikuyu grass was trucked down from Queensland and transplanted in strips into the Amphitheatre like hair plugs. It loved the sandy loam and took off. Groundskeeper Stu did a great job keeping it neat as a bowling green and nurturing drought-stricken trees back to health etc. The Sup' had never looked so good.
Perhaps the highlight of the whole weekend was a 'Special Solo Performance' by Andrew W.K. Known for full blown party rock, he appeared on stage Sat arvo in trademark white T and jeans, very, very slowly moving robotically across the stage. After what seemed like an hour, he made it to a keyboard and started making tiny noises with long pauses between them. Eventually this became a drum beat, then a riff then a jam then some songs. I'm not sure any one performer has galvanised and energised a Meredith crowd like Andrew did that day, there was something almost innocently beautiful about it, but he had the whole place going insane. Crazy fun. Check out the end: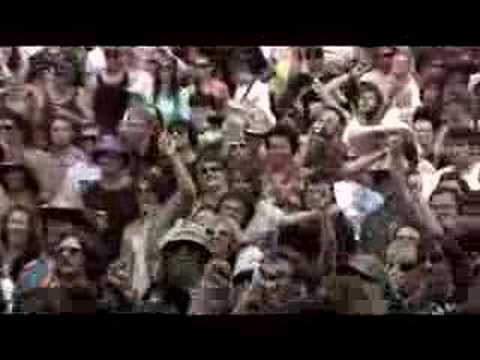 Meredith's not just a concert, it's a festival. Get down the front.
There was an overhaul of the recycling system this year which saw a sorting station built on site, which sorted through every rubbish bag and divided the contents into the appropriate recycling stream. From this point on, every single thing that came out of a food stall was recyclable. Uncle Doug built a hundred more composting loos. Meredith doesn't shout her green credentials from the rooftops, she just does it. She is it. People get to live in that environment for three days – it's a good way to advocate for a cleaner greener world.
The Community Tucker tent took their service to a new level – roaming the campgrounds offering Breakfast in Bed. Hot egg and/or bacon rolls, coffee and cold drinks were passed through tent flaps after a system of one grunt for 'yes' was established. Winner.
The world's finest human Angus Sampson was the "MC" for the Sunday and called The Gift. By then everyone was thinking left-handed anyway so his stream of consciousness obtusisms hit their target. And he name-checked Martin Kent. I think. Sometimes a chuckle is more telling than a belly laugh.
Other notable performances came from a new act called Crystal Castles who needed a little reassuring that the crowd would dig them (they loved them), Eddy Current Suppression Ring, Little Red, The Black Lips, Hoodoo Gurus, Gossip,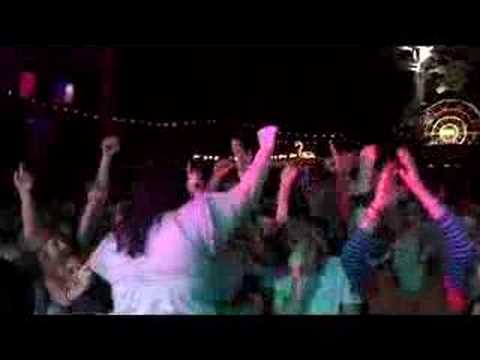 Midnight Juggernauts, Cut Copy and Sarah Blasko. Muscles was scheduled to play Saturday Night but that evening became extremely unwell and had to cancel his performance. DJ Indra played extra long to plug the hole and the whole place had a ball.
We found out a couple of weeks before the festival that Dresden Doll Amanda Palmer would be in town that weekend and could play if we wanted…we managed to squeeze an extra 20 minutes into the program with some juggling, and it worked out well:

Overall 2007 was a fine, fine year. No real dramas weather-wise and a good ambiance on the ground and in the air. Which was a nice change after the furnacial conditions of the year prior. Wonder what sort of weather the next year might bring?
The MMF2007 Website can be found here.
Below is some of What Was Said about the festival:
Faster Louder – Meredith Music Festival – by sarahanne
Music Australia Guide – Gossip Girl Loses Control – by Andrew Wallace
In The Mix – Meredith Music Festival @ Meredith, Victoria (10/12/07) – by Belinda Healy
In The Mix – Photo Gallery
ABC Victoria – Meredith Music Festival 2007 in pictures – by Jarrod Watt
The Dwarf – Meredith Music Festival – by Marmalade Puddle
Beat – Review: Meredith Music Festival – by Chris Girdler
db – Review: Meredith Music Festival – by Narelle Walker
Inpress – Review: Meredith Music Festival – by Adrian May, Bryget Chrysfield and Cookie Lee
The Age – No End In Sight For Annual Festival's Loyal Merrymakers – by Daniel Ziffer
The Sunday Age – Surfing A Sea Of Song In Meredith's 17th Summer – by John Bailey
Artist LineUp:
The Gossip
Little Red
The Black Lips
Gotye
Andrew W.K.
Clutch
Cut Copy
Art Brut
Eddy Current Suppression Ring
Crystal Castles
Dr Dog
Junior Reid
Ned Collette Band
Amanda Palmer
Lady Strangelove
Sarah Blasko
DJ MuGen
King Brothers
The Smallgoods
The Galvatrons
Paris Wells and Thief
ROOT!
Combo La Revelacion
Black Pony Express
Ooh-ee
Richie 1250
The Devastations
Paul Williamson Hammond Combo
Hoodoo Gurus
Andee Frost
Midnight Juggernauts
City of Ballarat Municipal Brass Band
Special Guest MC: Angus Sampson
Gift Mistresses: The Town Bikes